We searched long and hard and talked to many individuals when trying to figure out the right casual look for our selection at Park Provisioners and we think we have come up with a winning collection. Hidden in this collection, you will find many great value pieces and various items which provide little extras like useful pockets, water repellency, lifetime guarantees and much more while being right on point for some of today's fashion trends. Additionally, we took a lot of pride in digging up what we like to call our character wares. These are items which you assist in making up over time and items which will remain as signature pieces in your wardrobes for years or decades to come. If you're confused by this, come in and ask to check some of these items out and have an associate explain this to you.
HOWLER BROTHERS
Howler Brothers clothing designs honor the soul, passion and timeless style of sports such as surfing and fly fishing but update historic garment ideas with modern influence from waves, water, geography, fashion and art. Every garment and accessory is crafted with functionality and attention to detail at the forefront. We avoid trendy or overly traditional ideas and use small batch production and collaborations with artists and craftsmen to create original, alternative offerings. Our base of operations, Austin, Texas, is miles from the nearest ocean but provides daily inspiration with its vibrant and diverse creative culture.
THE UNBRANDED BRAND
No branding. No washes. No Embroidery. No Ad Campaigns. No Celebrities.

The Unbranded Brand is a crazy concept in the world of premium apparel. While other companies try to create a brand image through expensive ad campaigns and celebrity endorsements, we do the opposite. Have you ever wondered why some "premium" jeans cost as much they do? What is the difference between jeans that sell for $250 and others that sell for $80?

We think overpriced and over-hyped jeans are silly. That's why we decided to focus on the core essentials instead: great fits, solid construction, and top quality selvedge denim. By eliminating all that is unnecessary about branding, we can offer a better product at a better price.

The Unbranded Brand is as simple as that.
REDWING BOOTS
Just like the company which was founded in Redwing Minnesota back in 1905 their boots are made to last! No doubt about it the Iron ranger line of Redwing boots not only has that great rugged look but also can give you a refined look with a little polish. You don't buy these boots for today but for tomorrow and many more tomorrow's down the road.
We consider Redwing boots to be a part of our Character wears collection at Park Provisioners.
LEVI'S
What started as an invention for the American worker became the uniform of progress. Worn by miners, cowboys, rebels, rock stars, presidents and everyday men and women, these functional pieces were the clothes people not only worked in - they lived their lives in, too.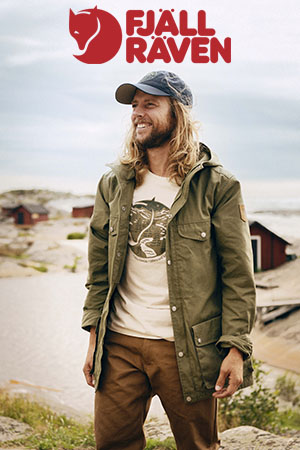 FJÄLLRÄVEN
Fjällräven means Arctic Fox in Swedish, honoring the small and highly adaptable predator that lives in the Swedish mountains under the harshest conditions. From the small town of Örnsköldsvik, Fjällräven has now expanded to every corner in the world. The fundamental ideas remain the same; provide functional, durable, and timeless equipment to make the outdoors more enjoyable for all. Fjällräven continues to find smart, innovative solutions to make every adventure an unforgettable one.
FILSON
Founded in 1897, Filson began as a workwear company in Seattle for Miners heading up to the Klondike for the Gold Rush. Today Filson still makes the heavy majority of its wears in the US the same way they did way back then. Filson products have become somewhat of a fashion statement over the past decade or so. Many enjoy the fact that when they purchase something like a jacket from them that they know this is a multi-decade item they are buying and that the item may actually be worth more later in life.
HIPPY TREE
HippyTree is the original "surf & stone" apparel company. Founded in a Hermosa Beach garage in 2004 by a local surfer, climber and artist, HippyTree is dedicated to designing products and graphics that embody the surf and climbing lifestyle. Marked by the green tree logo, HippyTree is committed to softening its environmental impact by using eco-friendly materials and manufacturing. HippyTree apparel is sold in surf, outdoor and specialty retailers throughout the United States and internationally.
BRIXTON COMPANY
Founded in 2004, Brixton is the collaboration of three friends who wanted to convey their lifestyle through unique products.
The clean, classic design of the Brixton collection has a modern yet timeless feel, and each piece is constructed with the commitment to bringing our customers quality products they'll want to hold onto forever.
Business hours
Mon - 10 am - 6 pm
Tues - 10 am - 6 pm

Wed - 10 am - 6 pm
Thurs - 10 am to 8 pm
Fri - 10 am - 8 pm
Sat - 10 am - 6 pm

Sun - CLOSED
© Copyright Park Provisioners